Introducing Tad Williams and Sean McMullen!
---
It's our great pleasure to bring you this mix of guests, from national to international interests. We're sure you'll enjoy them as much as as we do.
Confirmed: Both Tad Williams and Sean McMullen have confirmed their appearance at Cond'Or 2000!! It'll be great to see them there.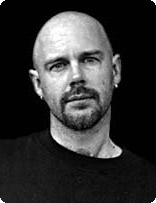 Tad Williams
Literary Guest of Honor
---
Tad is a well-known fantasy writer of many years and hails from the San Francisco Bay Area. He has held many jobs in his lifetime, including hosting a radio show. As well as writing novels he is working on comic books and film scripts. His works include Memory, Sorrow and Thorn, and Tailchaser's Song. He is currently working on the Otherland series of which two books have been published. He is sure to be an entertaining speaker when he appears at Cond'Or.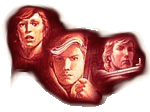 To the right you'll see the many faces of Simon as he grows in Tad's epic trilogy Memory, Sorrow and Thorn. (The Dragonbone Chair, Stone of Farewell and Storm (Book 1) and Siege (Book 2): To Green Angel Tower) The trilogy has been called fantasy's eqivalent to War and Peace (Locus) and in my own personal opinion is a thrilling read. (Being upto book 3, part 1 myself) The trilogy follows the journeys and growth of a parentless kitchenhand, Simon. His friends, the small mountain troll Binabic, and the kings own daughter Miriamele, as they together with a rich cast face the terrible evil that erupts over their lands. Including that of an anchient people quite mysterious to most including Simon. Follow the extending story of a battle between two brohers and how ones seeming grudge can drive him to vengence beyond what any of those in the kings land would think beyond their most terrible, darkest, nightmares.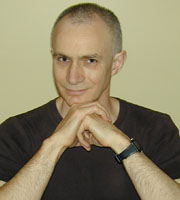 Sean McMullen
Literary Guest of Honor
---
Sean McMullen is one of Australia's leading SF authors, and lives in Melbourne with his wife and daughter. He has six books published and another three are sold, and is the winner of eight awards for SF and Fantasy. In addition, he has sold over three dozen short stories to magazines like Analog, Interzone and Fantasy and Science Fiction, and was co-author of Strange Constellations, a history of Australian SF. He is a third Dan karate instructor, has won four sword and shield tournaments while in the SCA, and has sung in the Victorian State Opera, the Trinity Madrigal Consort, and various folk and rock bands. His most recent novel is Souls in the Great Machine. He has lots to say and there will be many opportunities to see him during Cond'Or.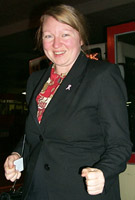 Maree Sole
Fan Guest of Honor
---
Maree has been actively involved in the science fiction community for many years and is busily planning OdysseyCon in 2001. Maree has far too many acomplishments for us to list here but you're assured to laugh and be entertained with this guest. Reported to be dangerous near Trees and Nuclear Weapons, and able to organise books faster than the flash.


What Maree has to say.
"I do not remember getting into Science Fiction per se, seems like it's always been a part of my life, but I do remember getting into Fandom. Wellington 1982, after a particularly long day at Library School, I was invited to join a group that was meeting at the bistro at the St George Hotel. It was there that I met people like me! Who knew about science fiction and could talk about it for hours! They told me of these things called Conventions...and before I knew where I was I was running one, ConScience '89 and then another KiwiCon '90 and now I am doing OdysseyCon 2001! A classic case of once bitten, going back for more! So, I have been on LOTS of committees, have done almost everything in fandom at least once, including Con and club running, writing, acting in Pratchett plays (Nanny Ogg and Princess Keli), filking, modelmaking and costuming. I have just become a published author along with other members of SNIPS, the Stella Nova writers group. Our book Millennium Knights is out in shops now (shameless plug).
I see "SF Coming of Age" as a new awareness that people need to get up and CREATE things within fandom. Write that book, paint that picture, run that Con. What can I say? It's a rush."
For the sake of posterity, Maree has placed the aforegoing paragraph in the public domain.
---
Further information on current and future guests will change as we update the site. Please stay tuned
---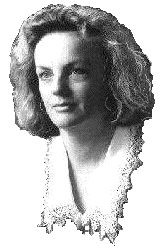 Sara Douglass
Non-Attending Guest of Honor
---
Sara is an Australian born and bred medieval/fantasy writer with a number of books to her name. Ironically though she has studied as a nurse, Sara is no unfortunately unavailable to attend Cond'Or due to medical reasons. All of us here on the Cond'Or team wish her the best and a speedy recovery and i'm sure we all hope to see her at a future event. The Cond'Or team sincerely apologizes to anyone whom this may have caused an inconvinience, FORTUNATELY! We've managed to find another Australian to help fill Sara's shoes (not that they wear the same size nor indeed share the same footwear, ahem!!) anyhow, we hope you enjoy Sean as much as you would have Sara. Else who knows, the same nanites that got Sara may just accidently end up in *your* conreport! :)